Golden Sunsets
"Cassidy"
March 27, 2002 – July 21, 2016 By Joe Chvastek
It was March 1, 2002, when I went to our first Golden, Kelly and kissed her goodbye before I went to the gym. At 14 ½, I knew that any time could be THAT time. I told Kelly through some moistening eyes that if she had to, she could let go and that we'd be all right. I returned from the gym and she gave me that Golden retriever smile as I came in. Later that night after watching a movie, I went into the kitchen to take Kelly out and saw her sleeping in her usual spot. I walked heavily so not to startle her, knowing the heavy footsteps would wake her. This time they didn't. Kelly had passed in her sleep. We were devastated and sat next to her, crying.  A few weeks after Kelly passed, Sandy had a dream with Kelly running down a hill towards her, with a dark golden puppy romping along side of her.  Sandy told me about the dream and how real it seemed each day for the next couple of days. About a week after that dream our vet called us and said "I don't know if you're ready, but I know of two litters coming. One of the litters…..this will be their last and each puppy has been a home run."  He gave us the phone numbers. A few days later we called one of the numbers and heard newborn puppy yips at the other end of the phone..…the puppies were actually being born!  A few weeks later we went to see the litter….we sat on the floor and the puppies  walked all over us, with that puppy smell, biting anything that presented itself, fingers, noses, feet, shoe laces…you name it. It was the first time I had seen puppies that young, and was without a doubt one of the best things that I have ever experienced. Some weeks later, the day before Mother's day, Cassidy came home with us. The next day, half-jokingly, I picked up Cassidy, walked over to Sandy and said "Happy Mother's Day!"  From that day on, Sandy called her the best Mother's Day present, ever.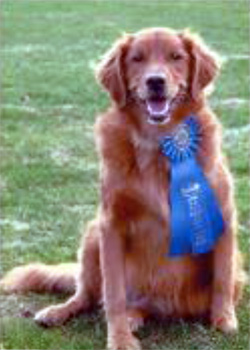 Cassidy was the first dog that we took for any kind of formal training. We did obedience at First Dog Training Club and we clicked. We fed off of each other and it was unlike any feeling I had ever felt. While at First Dog, I saw a flyer about some club called Skyline Agility. I read it and thought it would be fun to try.  That worked out to become a journey that cemented a bond between us unlike any other, and brought us so many places in the canine community along with getting more than half way to MACH before I had to retire Cassidy due to a knee issue in 2011.  
Cassidy passed on July 21, 2016, living a very loving, happy and active 14 ½ years. Each year we would take our two week journey up to Lake George.  I would throw a tennis ball into the lake until my arm was sore (there were years when we had three Goldens at the lake, Summer and Ryan being the others, along with Sundance our Shiloh Shepherd). To us it was the highlight of the year, being with our kids at the Lake, all of us having a great time. This year's trip to the Lake, was the first time in 30 years that I didn't throw a tennis ball in the Lake for a Golden to retrieve,  having also lost Ryan this year. While there, we noticed at the end of the dock, where our kids would launch themselves from, all of the years worth of scratch marks. It was a melancholy and comforting set of feelings and did bring a smile to us. But while there I also noticed something sitting in a small opening on the dock by the small boathouse. It was a pink 'spaldeen' from last year -  Cassidy and Ryan's last time at the Lake.  To Sandy and I it was Cassidy letting us know that she was there with us.
Cassidy was the pack alpha, a true leader, never using more correction than as necessary. She never challenged Summer, our oldest at the time, and was very confident of her standing throughout her life.
Cassidy survived two cases of Mast Cell tumors, coming back strong each time, and was happy and active right until her last days. After we lost Ryan the January before, Cassidy became sort of a clown again, noticing we needed something to lighten our load. Last fall, I had two graves dug …one for Ryan as we knew she wasn't going to survive hermangiosarcoma, and one for Cassidy, so if she passed during the winter, I wouldn't have to dig through frozen ground. Well on her 14th birthday this past March, she walks over to where her grave was, smelled it and proceeded to take a humungous dump on the grave. She had never so much as peed at that spot.  Cassidy never had any issue communicating.
It's been more than two months since Cassidy's passing, and we still can't get our heads around the fact that she's gone. As you can see, Cassidy gave us some the greatest experiences of our lives. We can still feel her presence, especially in the training of her new girl, Spryte. The bond that I had with Cassidy was unlike any other in my life. Cassidy….I just say the name and it stops me in my tracks.  Cassidy….you taught me so much, gave us so happiness. Cassidy….you were unlike anything I have ever experienced.  For all of the thousands of days of joy and the last days of devastating heartbreak, I would do it all again in a heartbeat. The love between us and Cassidy was one of the most powerful things we've experienced. There are many different kinds of love we'll feel in our lives, but the love we got from Cassidy was unmistakably one of the greatest treasures of our lives. HRCH,UH Windrush's Blaze Orange CD, MH, CGC, WC